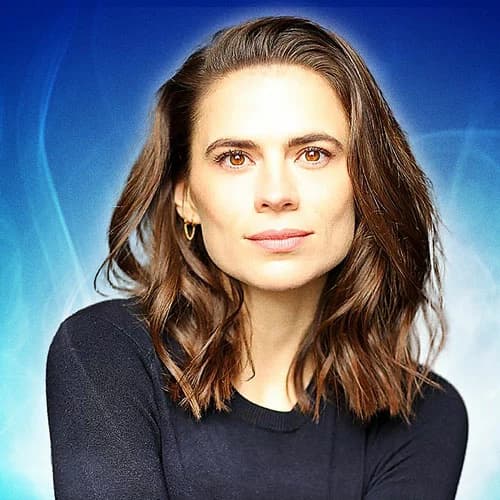 Hayley Atwell is a British-American actress who is best known for her role as "Peggy Carter" in Marvel's Captain America. She trained at Guildhall School of Music and Drama and after graduation, her stage debut came in Prometheus Bound at Sound in London starring David Oyelowo. It was followed by Women Beware Women at the Royal Shakespeare Company and two shows at the National Theatre both directed by Nicholas Hytner, Man of Mode and Major Barbara, for which she received an Ian Charleson Commendation. Hayley's West End debut came in the Duke of York's A View From the Bridge, in a production directed by Lindsay Posner, and for which she landed the first of her two Olivier nominations. Hayley starred in Alexi Kaye Campbell's The Faith Machine, directed by Jamie Lloyd at the Royal Court, and collaborated with Alexi Kaye Campbell and Jamie Lloyd again in a revival of The Pride at Trafalgar Studios. She was nominated for the Best Actress Award at both the Olivier Awards and WhatsOnStage Awards for her role. Hayley returned to the stage at Hampstead Theatre in Dry Powder and completed a sold-out run of Josie Rourke's Measure for Measure at the Donmar Warehouse opposite Jack Lowden. The production was high-concept Shakespeare – the first half was a traditional, 17th-century staging before the second half retold the story with the gender power dynamics reversed – within every performance, Hayley and Jack Lowden alternated the roles of powerful Deputy and powerless Novice. The Daily Telegraph said that the production was, "beautifully staged and expertly performed." Measure for Measure's run was extended due to popular demand.
Hayley made her name in acclaimed British television series including BBC Two's The Line of Beauty, Channel 4's adaptation of William Boyd's Any Human Heart, and Ken Follett's Pillars of the Earth, she was nominated for a Golden Globe for Best Actress in a Miniseries for this role. She took the lead in Restless, an adaptation of William Boyd's espionage novel for BBC Two. Hayley also starred in "Be Right Back" – the stand-out episode of Charlie Booker's Black Mirror. Last year marked a critical point in Hayley's career, with her dazzling portrayal of Margaret Schlegel in BBC One's, Howards End, based on the classic E.M. Forster novel and adapted by Academy Award-winning screenwriter and playwright Kenneth Lonergan (Manchester by the Sea, Gangs of New York). The four-part limited series was directed by Hettie MacDonald. Hayley was later seen in BBC One's The Long Song, a three-part adaptation of Andrea Levy's award-winning, best-selling novel (shortlisted for the Man Booker Prize, longlisted for the Orange Prize, and recipient of the Walter Scott Prize). Hayley starred alongside Tamara Lawrance, Jack Lowden, and Sir Lenny Henry. The series was directed by Mahalia Belo. Set during the final days of slavery in 19th century Jamaica, the story follows the strong-willed, young slave, July (Tamara Lawrance) on a plantation owned by her odious mistress, Caroline Mortimer (Hayley). When a charming new arrival to the island, Robert Goodwin (Jack Lowden), becomes the new overseer, July and Caroline are both intrigued by his seemingly revolutionary determination to improve the plantation for the slaves and mistress alike. During a time of social unrest and turmoil, this powerful story is told from July's perspective as she looks back over her life. It's a story about the injustices that humans inflict upon each other and the unexpected ways in which people's humanity sometimes overrules their prejudices.
Hayley's film credits include Julian Jarrold's Brideshead Revisited and The Duchess, for which she was nominated in the Best Supporting Actress category at the British Independent Film Awards. Hayley was later cast opposite Chris Evans in Marvel universe blockbuster Captain America: The First Avenger. Her character "Peggy Carter," was given her own show, Agent Carter, the first-ever Marvel spin-off to be fronted by a woman. The first season garnered 8M viewers when it premiered on ABC. Hayley has reprised this role in Captain America: The Winter Soldier, Avengers: Age of Ultron, and Ant-Man. Hayley also starred in Disney's Christopher Robin opposite Ewan McGregor. Hayley can be seen starring opposite Tom Burke in an adaptation of Henrik Ibsen's play Rosmersholm at the Duke of York's Theatre. The play is directed by Ian Rickson. She can also be seen in Blinded by the Light, directed by Gurinder Chadha.